Miranda Mulholland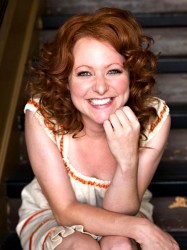 Classically trained on violin and in voice, Miranda is a versatile performer and in high demand as a fiddler and singer covering a wide range of styles.

Currently she is a member of Great Lake Swimmers and Belle Starr and is recording a solo album with multi-instrumentalist/producer Sean Watkins (Nickel Creek). She makes select appearances in the violin show, 'Bowfire' and has sung and played fiddle with Jim Cuddy, Steven Page, Alan Doyle, Chantal Kreviazuk, Dan Mangan, John Borra, The Rattlesnake Choir and Justin Rutledge, among others. In addition to varied studio work, she has toured extensively in Europe and North America with the celtic rock bands The Mahones and The Peelers, The Paperboys, The Glengarry Bhoys and the alt-country band Luther Wright and the Wrongs. She was also a member of the Canadian cast of Barrage.
Miranda studied Opera Performance at The University of Western Ontario and McGill University.