Marc Djokic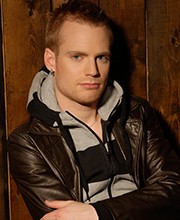 Violin. Critically acclaimed violinist Marc Djokic is one of Canada's most engaging concert musicians. He performs across the United States and Canada as a soloist and a collaborative musician. Marc is praised for his dynamic and exciting performance style. Marc performs frequently as guest soloist with orchestra, having enjoyed playing with many orchestras such as the Toronto Symphony Orchestra, the Quebec Symphony Orchestra, and The National Arts Center Orchestra.

Marc currently resides in Montreal he has recently been named Artistic Director of the Rencontres à l'Oasis concerts of the l'Oasis Musicale Series at Christ Church Cathedral. He is also Artist in Residence of the year-long series l'Oasis Musicale. Marc is winner of an Opus Prix and has established himself as a performing artist of critical acclaim "spot-on accuracy";… "violin playing of a high level" – La Presse. Marc is also part of the Morpheus Ensemble, a quartet which enjoyed being the ensemble-in-residence at La Chapelle du bon pasteur historique in Montreal from 2010 to 2013.

Marc performs annually in numerous chamber music festivals across North America including Park City Chamber Music Festival in Utah, the Ottawa Chamber Music Festival, Music and Beyond Festival, Montreal Chamber Music Festival and many others.

Marc Djokic has received numerous awards and grants from the Canada Council for the Arts and gratefully acknowledges their support throughout his career. Marc performs on violins by Carl Becker 1927 and a rare Guarnerius from 1740.