Linsey Beckett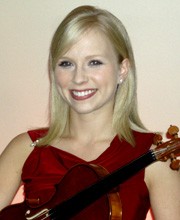 Linsey Beckett has performed on numerous stages across Canada and parts of the United States, awing audiences with her toe tapping fiddle styles, energetic step dancing and contagious smile.  The tradition of fiddling has been passed down through many generations in Linsey's family.  She regularly performs with her family band, The Beckett Family, who have been credited for their traditional country music from Western Swing to Bluegrass, and their Canadian Old Tyme fiddle sound; making them a popular attraction at festivals.

Linsey started touring with the Don Messer Jubilee Tribute show at the age of 13, performing over 200 shows in Ontario, Manitoba, Saskatchewan, Alberta and the Eastern Provinces.  She performed as the guest fiddler and step dancer, and in her last year with the production, was featured in the lead role. Linsey has won many fiddle awards, including the Ontario Junior Fiddle championship, and has shared many duet championships with her brother, Tyler. Linsey continues to play with a variety of traditional fiddle, country and contemporary acts, including the 'Beckett Family,' Kevin Collins show (Nfld), GM Patterson show (Tenn.), Scott Woods show and Magnum (ON).

Currently, Linsey is balancing her performance career with her studies in geography and music at Sir Wilfrid Laurier University.