Lenny Solomon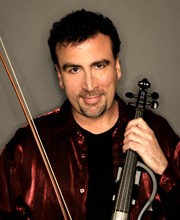 Over three decades and on five continents, LENNY SOLOMON, Bowfire's founder and Artistic Director, has built a strong reputation as one of the world's most skilled and innovative jazz violinists. Hailed as a "pleasure to discover" by LA Jazz Scene, his performances are "packed full of swing, polish and enthusiasm." His three jazz violin CD releases, After You've Gone, The Gershwin Sessions, and Transparency have received critical acclaim, one reviewer dubbing him, "the heir apparent to Joe Venuti." He has toured extensively in the United States, Canada, and Japan with The Lenny Solomon Trio and was a three-time winner of the annual Violinist Of The Year Award presented by The National Jazz Awards and has appeared as featured guest jazz soloist with many prestigious orchestras.

As a member of the pop duo Myles And Lenny in the 1970s, he recorded two albums for Columbia Records, toured widely, and won a Juno Award. Lenny went on to found the pop string quintet, Quintessence, collaborating with Bill Bridges, and established himself as a versatile and much sought after studio musician. Lenny also put together a very unique ensemble, The Galaxy Trio combining classical and jazz styles on the violin.

Starting out the millennium with, "TrioNorté" , Lenny won a SOCAN #1 Award for the video of his composition "Fernanda". With "Bowfire", Lenny is hoping to achieve a new direction in entertainment and performance, combining varied styles and great musicians. During his prolific career, Lenny has also enjoyed writing and arranging and continues that on his most recent jazz violin CD Transparency and for Bowfire.