Singular String Sensation BOWFIRE to Delight Fans with New CD Release: NEW FLAME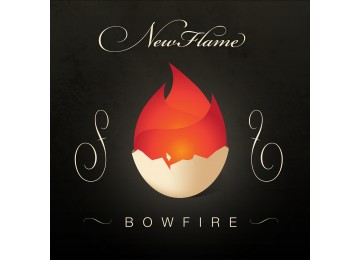 Smoking Hot Virtuoso Violinists and Fiddlers Bring High-Energy, Genre-Defying Extravaganza on Multi-City Tour
"Exhilarating," "electrifying" and "innovative" is typical praise for the diversely talented collection of violinists and fiddlers that make up BOWFIRE. But BOWFIRE is anything but typical. It's a toe-tapping, hand-clapping, soul-stirring theatrical experience that highlights the range and artistry of virtuoso string musicians. With one sweep of the bow they can journey across musical time and styles, turning from a Celtic rhythm to a hip-hop beat or seamlessly sliding from Led Zeppelin to Brahms.
The CD on the FrostByte Media label will feature many of the selections currently in the BOWFIRE live show, including a rousing "Pirates of the Caribbean," and three songs written by BOWFIRE's artistic director Lenny Solomon. A single from the album, "The Magic of the Love We Share," will be released later in the year.
Each of BOWFIRE'S performers is renowned as a leading interpreter of their respective violin and fiddle styles. As if that level of virtuosity wasn't enough, several happen to possess incredible voices and can tap and step dance, talents amply displayed throughout the string showcase. They've attended prestigious music schools, like Julliard and McGill, competed in—and won—respected international music, voice and dance competitions and conquered a vast range of genres, from classical to Celtic, from bluegrass to jazz, from rock to klezmer, and virtually everything in between. On stage, equally gifted musicians on cello, bass, percussion, guitar and piano back up the violinists and fiddlers.
The brainchild of classically-trained jazz violinist Solomon, the kinetic nature of BOWFIRE's live performance was inspired by such enormously popular events as "Riverdance." Instead of remaining sedentary behind music stands, the players move energetically throughout the show, taking turns in the spotlight. Lighting, choreography and costumes match BOWFIRE's dynamic musical performance. In fact, wrote the Toronto Star, "BOWFIRE does for strings what the 'Lord of the Dance' did for Irish dancing."
"I was drawn to the idea of putting a group of players who are adept at different styles together," says Solomon. "I'm always interested in finding incredible exponents of a particular style, exciting talent who do something unique that inspires the audience. Through BOWFIRE we have elevated the entertainment value of the violin and fiddle beyond something you would find in a chamber or jazz concert. It's a new approach to string performance."
The musical mash-up in a BOWFIRE performance can include a Brahms Hungarian dance, a Stevie Wonder medley, an Astor Piazzollo tango, klezmer, traditional and bluegrass fiddle tunes, Texas swing, pop, rock, jazz and hip hop, as well as original works by Solomon. And when the fiddle players simultaneously show their step-dancing prowess, the audience can't help but rise to their feet and clap along.
BOWFIRE's re-interpretation of the iconic James Bond theme—also featured in the new CD—even caught the ear of the original 007, Sean Connery. As a treat for his father's 80th birthday, Connery's son transported the troupe to the Bahamas, where they played for the celebrated actor and dedicated BOWFIRE fan. Connery joined in with some fancy footwork of his own.
A hit with audiences worldwide, in the US the ensemble of world renowned musicians and dancers are such a sensation that in 2008, PBS Television broadcast one of their concerts nationwide. During the concert recorded live by PBS, BOWFIRE received 8 standing ovations!
"In a world full of pop shows that seem so similar to each other, BOWFIRE stands out as unique and absolutely top-drawer," noted Colorado Symphony Orchestra Conductor Scott O'Neil. "More than merely a concert of well-chosen selections, this is really a SHOW, which moves and inspires as much as it entertains."
Click here to buy the "New Flame" CD
Click here for Tour Dates
« back to news